Français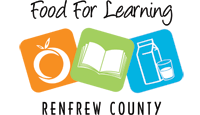 Renfrew County Food for Learning Student Nutrition Program (SNP) provides funding for food and ongoing support to schools and community organizations who run healthy breakfast, snack and lunch programs for the children and youth living in Renfrew County. Nourishment programs are available to all students, regardless of socio-economic status. This universality ensures that the program is non-stigmatizing and that students feel welcome and comfortable. Children and youth who are well nourished are less tired, concentrate better and are better prepared to participate in academic and physical activities. Helping student get the nourishment they need to succeed supports healthy development, contributes to prevention of diet related health concerns and promotes healthy lifestyles.
How do the programs operate?
A site coordinator is identified to play a central role and act as a contact person for the Food for Learning Staff. Volunteers maintain daily operation of programming and may include parents, students, school staff and other community members. A local program committee may be established to help guide the planning and administration of the program. A vital component of nutrition programs is to teach children healthy eating habits for lifelong healthy development.
FFL fosters parental and community involvement in Student Nutrition Programs we support. Parents should be informed about the program and be provided with opportunities to contribute financially, in-kind or by volunteering. Community partnership, other funding sources, monetary or in-kind donations from a variety of sources (eg businesses, service clubs, church groups) help to ensure sustainability of nourishment programs.
Programs must serve safe and nutritious food. Food choices should be planned using MCYS nutrition guidelines and reflect the diversity of students. Meals (breakfast and lunch) should include at least 3 items, including a fruit or vegetable and dairy. Snacks should include at least 2 items, including a fruit or vegetable.
Receipts, volunteer hours and in-kind goods or services should be recorded and submitted to FFL. Programs are required to submit monthly on line reports. Submission of receipts and expense summaries are required at the end of December, March and June.
Community Partners
Best Start
Conseil des écoles catholiques de langue français du Centre-Est
Conseil des écoles publiques de l'Est de l'Ontario
Kid Active
Ministry of Children and Youth Services
Ontario Heart and Stroke Foundation
Ontario Works
Paramedic Association of Renfrew County
Pheonix Centre
Renfrew County Catholic District School Board
Renfew County and District Health Unit
Renfrew County District School Board
Renfrew County United Way
Upper Canada Leger Centre for Education and Training